5Rhythms Tribe | Lockdown ~ Seeking Space
April 14, 2018
by Xoli Fuyani, South Africa
Lockdown
One of my favourite Rhythms is Lyrical. As I grew deeper in my dance, I came to realise that my love of Lyrical was not mainly about the dance but about a need for space and freedom to freely move. As a black South African growing up in a township, the need for space is a big issue: not having enough space for housing, children not having recreational spaces to play, and people living on top of each other.
The first sight you see when leaving Cape Town International Airport after arriving in Cape Town is the rows of shacks – "informal settlements' – and bucket toilets. This is what greets travellers along the N2 stretch of highway into the Cape Town city centre. And this is the big reality of black people living in the townships. People are constantly fighting for space and decent housing.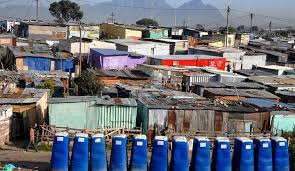 At the end of February 2018, the backyard dwellers in my community, Gugulethu (translation: 'Our Pride') lost faith in seeking space and lost the plot. What followed was a lockdown and violent protests over a lack of housing, leading to the torching of government buildings and vehicles.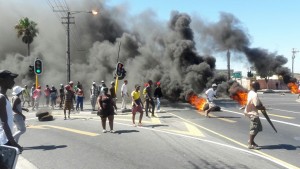 The day of the lockdown, I was scheduled to teach my weekly class in the nearby suburb of Hout Bay. When I heard I couldn't leave home, I immediately felt a deep sense of sadness. The environment was strictly controlled, informal spaces were filled with temporary shack structures and violent activities emerged and flourished as a result of the desperation of not being heard by government officials and lacking the outlets or tools to deal with anger.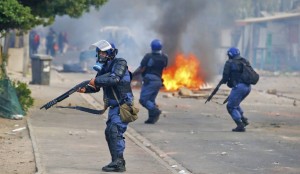 Thank God for the dance! Before I could speak to my regular dancers about cancelling classes, I needed to do a little Chaos dance to release the tension, opening myself to feel the lightness of my being so I could locate my breath and find my feet. I was very clear and not caught up in the emotions of what was happening. I felt a huge sense of gratitude for this practice, as I was able to remain in my body and not panic. Every day of that week, I chose to authentically move/dance and the dance became my tool of expression.
Outreach
What a blessing it has been to be able to offer outreach classes in the townships, with an intention to offer space and allow people to freely move. March was all about Expanding Lyrical! For many who I teach in my outreach, our weekly classes have become a safe and healing space. Our classes are so much fun: expressive and informative.
The results have been phenomenal for the children that attend my weekly class. Their basic English knowledge is higher than those who do not attend my classes as one of our focuses is using 5Rhythms as an English enrichment. During recess, I sometimes catch a glimpse of them teaching other children what they have learned in class. I see so much pride and confidence as they explain their body parts and their feelings in English.
Every day, I have the choice to move out from my community and to live in the city but over and over I choose my Home! I choose to keep the practice alive as I continue to navigate my space. I choose to mine the strengths, then try to change the habits as I spread the dance wherever I can.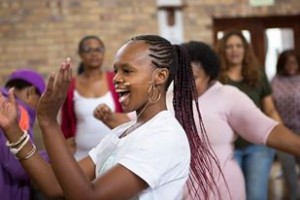 < BACK TO NEWS