December 2013 5RTA Teacher Spotlight: Amber Ryan
December 2, 2013
December 2013 5Rhythms Teachers Association Teacher Spotlight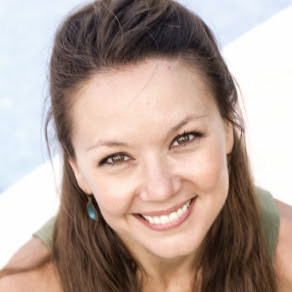 Amber Ryan
Costa Rica
5Rhythms Teacher since 2008
Tribe Member since 2000
My home rhythm is flowing. It is the space where I feel most free to be me, in tune, rooted, and connected to my inner world. And yet, I love dancing in the realm of flowing staccato, the space where the feminine and masculine meet. I know that my relationship with staccato has come not only through the conditioning of the culture I grew up in; it has also been greatly refined through the practice of the 5Rhythms. I have seen and experienced that those of us who practice the 5Rhythms long term develop a beautiful balance and accessibility of both the feminine and masculine energies, and in that our grace and strength can be an offering to the world.
I was introduced to the 5Rhythms in 1999 after a chronic ankle injury ended my "professional dancing career." While I was healing from a break to my foot, my acting teacher handed me Gabrielle's book "Sweat Your Prayers." I knew that Gabrielle would be my teacher by the end of the first page.
Since I have been living in Nosara, Costa Rica, my yoga practice has supported my on the edge dance practice. I have had the opportunity to explore different forms of yoga in relation to and in support of the 5Rhythms. One of my favorite forms is Yin Yoga as it offers a deeply feminine approach to release the fascia and connective tissues that get stressed from the dance. Another form of Yoga that partners really well is Kundalini Yoga. One of the gems of discovery that have been revealed to me by practicing Kundalini Yoga and 5Rhythms side by side is the entrance into the trance space. In my experience of both practices, we can enter the gateway of trance through repetition. Kundalini Yoga calls for me to be in my strength and deeply sourced power, the 5Rhythms practice, amongst other things, allows me to soften surrender and melt into the beat of the one.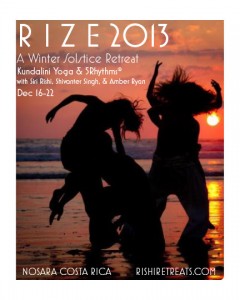 Rize: A Kundalini Yoga + 5Rhythms Retreat
with Amber Ryan
December 16-22, 2013
Nosara, Costa Rica
< BACK TO NEWS