December 2013 5RTA Teacher Spotlight: Amelie Schweiger
December 3, 2013
December 2013 5Rhythms Teachers Association Teacher Spotlight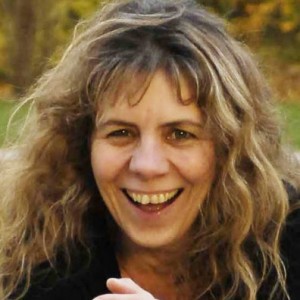 France
5Rhythms Teacher since 2004
Tribe Member since 1997
Flowing is my native rhythm. For me flowing is the basis of everything. This first rhythm offers me a soft and precise way to find security and circulation in my feet, to find the consent of my all body to the gravity. With flowing I find my deep link with the earth and my freedom trough the space. Flowing makes me feel centered and grounded, it brings more availability into my joints, more space between my cells, more creativity in my body to articulate the other rhythms and circulate through the all Wave. Flowing is the foundation to express ourselves, to let go, play, create, innovate, integrate serenely. For me flowing is an inexhaustible source of vitality.
On a life level, flowing is teaching me ability to welcome my environment and to listen to others. It teaches me tolerance and sensitivity, gives me more flexibility to unify myself. If my feet are flowing, my head will follow. There is no conflict when everything is flowing within me when I'm unified. I am more capable of "flowing" in my interior and exterior spaces. Situations that I must deal with in every-day life are more or less moving but if I develop me "flow" in my body, it is a positive contribution to help to the situation to become more fluid around me. It is a space which dissolves resistance. It is the rhythm where I find the ability to go with the stream, the blissful acceptance, the big YES to life.
I discovered the 5R seventeen years ago. I was studying and teaching literature at university, running writing workshops and singing lyrical songs but I didn't find myself in any of that. I then started to turn to vocal improvisation and somatic techniques like Body mind centering, Feldenkreis and also began to practice contact improvisation to liberate the voice and the freedom of the body. At that time I discovered how much dance was important to me and the kind of wild free dance I was dreaming of but thought did not exist until I met the 5Rhythms…
I threw myself into this practice straight away and was certified wave level in 2004 and heartbeat in 2011. With 5Rhythms, I really felt that all my personal facets could meet in the transmission of this type of dance.
I invite you to join us in South East France to celebrate the transition to the New Year (from 28/12 /2013 to 01/01/2014). This workshop 'Le Pas Sage' (naughty, in French!) will be held in French and translated into English. We will be accompanied in these festive celebrations by a polyinstrumentalist musician and will go out in Nature with drums to allow ourselves to open to a rhythmic practice. Dancing, singing and beating the rhythms were the first arts and have been used for many ages by humans to ritualize and mark the important moments of Life. You are really welcome to France to celebrate, with us, in dance, this New Year 2014.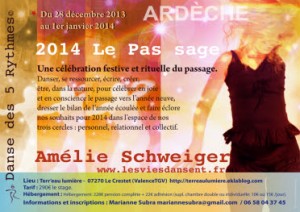 Le Pas sage
with Amélie Schweiger
December 28, 2013-January 1, 2014
Lamastre, France
< BACK TO NEWS