October 2013 5RTA Spotlight: Alain Allard
October 13, 2013
October 2013 5Rhythms Teachers Association Spotlight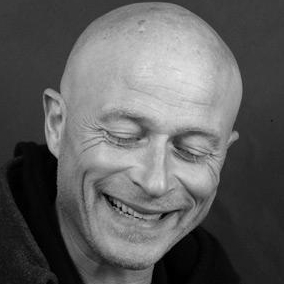 Alain Allard
United Kingdom
5Rhythms Teacher since 1997
Tribe Member since 1991
Many of us get stuck. Stuck in our heads. We fall out of balance, the natural balance of mind, body, emotion and spirit that together make up our basic consciousness.
On the dance floor much of this balance is restored, we hear again the voice of the body, the feelings of the heart, the movement of spirit. Then we go home to our everyday lives and the discomfort of stuck mental chatter throws us off balance and into some sort of familiar suffering.
My experience of listening to clients in a therapy room over many years is that there are roads customarily travelled on the journey of awakening to our maturity.
Looking at who "I really am", what I am carrying in the bag of my history, how I relate to the world that is around me, and what my intention, aspiration, "soul's purpose" might be. These are the stages of the journey.
Traveling this path in the company of others rather than in one to one work only has the benefit of normalizing, amplifying and encouraging movement in this ordinary process of human development.
We see that we are not alone, not unusual, not in any way "wrong". The more we reveal, the more we support each other, the more we open to our true essence.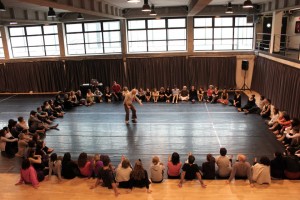 Basic Goodness – Dancing Through Defenses
with Alain Allard
October 16-20, 2013
Orval, Belgium
Update on workshop prerequisites for Gabrielle Roth's 5Rhythms Teacher Training Path
Last Spring, Andrea Juhan announced her resignation from our Faculty and that Open Floor will be evolving away from the 5Rhythms®. We have deeply meditated on how this affects others that have historically taught Open Floor in the 5Rhythms community for the teacher-training path.
Alain Allard will be incorporating the material of his previous stand-alone "Open Floor" workshops into a more substantial "Perspectives Series" – a Suite of workshops all of which will contribute to the Mirrors credit requirements for Teachers Training. The Series will take this form:
1/ "More Than This – 5Rhythms in Process – An Introduction to Perspectives".
2/ "Basic Goodness – Dancing through Defences".
3/ "Perspectives – The Ongoing Group". This is a closed group running in modules over the course of a year. To participate in this one has to attend all four of the Modules listed below.
a/ Module 1 – "Me, Myself, I"
b/ Module 2 – "What's Behind"
c/ Module 3 – "What's Around"
d/ Module 4 – "What's Ahead"
Every 2 or 3 years an optional fifth module for those who have completed the other 4 modules:
e/ Module 5 -"Right Here Right Now"
All of these will continue to count towards Mirrors hours on the training path. The exact number of these is being reviewed as the Series is developed and will be announced in the future.
Only classes & workshops held by 5Rhythms Teachers Association members are accredited for the teacher-training path as prerequisite hours. All members' teachers and their offerings are listed on 5Rhythms.com Teacher Listings.
< BACK TO NEWS