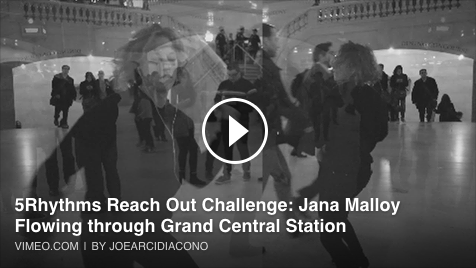 Dear Friends, Today is #GivingTuesday, a global movement that inspires charitable giving, and we're asking our tribe to challenge each other to dance the rhythms in inconvenient places to raise funds for 5Rhythms …
Yet, we need ground to run full force into transforming the world. We find this ground by starting with our own bodies. It is essential to begin our spiritual activism …
In the current political context, and also in the context of my work, it occurs to me that the maturity of Lyrical—the full, shimmering, vibrating, sharp, vivid, spectacular, booming beauty of Lyrical has to do with stepping in to joy with full, open-eyed awareness and acceptance of all our pain and of the collective pain of the world. It is only with the integration of the shadow principles, and, too, of our own psychological shadows, that joy can fully arrive—not just the happy-because-something-went-well-joy or the I'm-going-to-look-happy-since-I'm-not-sure-how I'm-feeling-joy, it is not the innocent joy of a child either. Rather, it is the joy that has wisdom in it, joy that pushes nothing away, joy that sees from vast heights, joy that has enough space to hold all things inside it.
Laughing while crying; standing while falling; opening while closing… I have long been attracted to paradox and the intersection of polar opposites. This serious yet playful bent to my personality is what first attracted me to the 5Rhythms®, the work o...
"Into the light, into the dark, it is all the same" <br><br> Gabrielle gave us many maps within the cosmology of the 5Rhythms. One that has been particularly fascinating to me right now is the Light and Shadow map. The body, yo...
One day the shapes I was making in Chaos took me to a very dark place. I did not have a clear memory of why (even while it was happening), …