5Rhythms Tribe | Permission and Pain
October 20, 2018
by Sue Sutherland, United Kingdom | Chronic pain sufferer, dancer, listener, truthsayer, tree hugger, skyclad howler, probably a witch and definitely a lover https://thefeelinstitute.com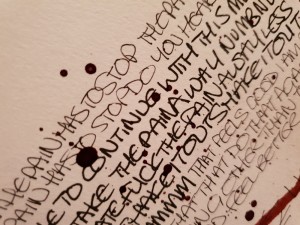 In the last couple of days, I have tapped into something new in relation to my constant, and ever present, pain.
For the very first time, I was given permission to feel it. I mean, really feel it.
It would be so easy to assume that the permission was granted by another, and, that was partly true. The permission I am talking about, is darker and lurking in the tightest corner of my psyche. Let me explain…..
On Friday, I was on the door for those arriving to 'A Deeper Acceptance: moving with chronic illness', a 5Rhythms movement meditation practice led by Richard Wiltshire as part of the Rhythm Village Festival. In my head, I was there as an advocate. In my head, it's not really happening to me. In my head, I do not have a chronic illness.
5Rhythms is often explored via a wave of Flowing — Staccato — Chaos — Lyrical — Stillness. Each state has a quality, a tone, and we move through them silently, typically to music.
The session started simply enough. Dancing a wave with our hands, only using our hands, whilst sitting on chairs. So simple, so stunning, so new. "I've got this," I thought. This is going to be nice.
Nice. Nice is not a word that sits solo with this work. When it's pleasing, agreeable and delightful so early on there is usually some new territory to be explored.
When Rich mentioned that we were going to then dance the shadow of the first 2 of the 5Rhythms, my ears pricked up. I got hot. Right up the back of my shoulders and neck.
It is often really difficult to do this in a busy, fast moving class when you are carrying an illness or pain, or both, in the same way it's difficult to go to a keep fit class with a pulled muscle. As dancers, we still want to move, we still want to be in community, we still want to belong, regardless of what else we are carrying.
How do we keep the integrity of the dance, the wave, yet include chronic illness and pain? In other words, how do we belong and stay true to ourselves?
Flowing can be heavy. Heavy as in the full weight of the often invisible illness and pain we hold in our beautiful bodies. The lethargy that comes with the starting so far from the starting line, with no energy, no magic wand and the full weight of reality. The, 'I have all these things to do and I just want to stay in bed and rest'.
Staccato can be the frustration. The irritability. The clenched fists. The fucking unfairness of the situation. The not being able to do what you want to do. The rage. The unheard screams. The barrel of tears. The, 'why is this happening to me?'. The, 'I don't know how I am going to get through the next 10 minutes, never mind the next 10 hours'.
…and this is where the game changer of permission revealed itself.
We paired up for this, and when it came to Staccato there was one song each. One person moving and the other person witnessing.
I closed my eyes and there I was, stood in the beautiful church I had danced in countless times before, with space and permission to be in pain.
I could feel the resistance, the desire to trivialise, the desire to push through. I didn't need to push through. I could be really fucking frustrated. I could hurt. I could express the grief.
The pain of having permission, both within and in my surroundings, far eclipsed the physical pain I feel in my body.
The emotional toil and loss of self is thick, horrific and abhorrent.
To be seen in this state, with no solutions, no remedies, no apologies, no abating others for the comfort of the collective. That, there, is a deeper understanding.
The searing pain, the frustration of the inability. To not be able to do what your heart wants, what your soul needs. To participate. It's a fight I don't even want to be in the running for.
Acceptance that the body cannot follow your desires.
Sometimes, I wonder why I even show up.
And yet, I do. I show up, we all do. Even in our absence.
The 5Rhythms Reach Out is happy to have played a small role in supporting Richard Wiltshire's offering of working with people with chronic illness at Rhythm Village Festival.

< BACK TO NEWS