5Rhythms Tribe | RhythmWave Fundraiser for Burning Man
April 6, 2017
RhythmWave exists to offer, inspire, support, and create opportunities for Conscious Dance and dance education. What began as a humble theme camp in the dust and ash of Black Rock City in 2007 has become an international community of gifted Conscious Dance teachers and practitioners. In Black Rock City and around the world, we dance during the day, we dance at night; we dance together and by ourselves − but we never dance alone.
Thousands of people (and maybe even you) have blessed RhythmWave's unique bamboo dance floor over the years, sharing their sweat, tears, fears, triumphs, joys, and heart. Lives were changed on that floor, no joke. And it has held up remarkably well through ten years of dust and dance. But sadly, by the end of 2016, many of the bamboo panels (about 2/3 or roughly 1,400 sq.ft.) had reached the end of their service – they were beyond repair and were retired to the fire.
That's certainly not the end of the story, though. RhythmWave continues to thrive and grow, and promote Conscious Dance for all people in all places. Including, of course, Burning Man. Which means that RhythmWave WILL be back in Black Rock City in 2017. But we need your help to get there….
Offering Conscious Dance to the citizens of BRC will likely always be RhythmWave's core offering – it's how the whole thing started, after all. And the foundation, the heart, of our gift to Burning Man is that beautiful bamboo floor, much of which must now be replaced.
Times have changed, though (clearly), and what it cost to create that amazing original floor in 2007 is not what it will cost to build a new floor in 2017. Not by a long shot.
Which is where you come in.
Your generous contribution to RhythmWave, through this limited duration fundraiser, will directly support RW's new bamboo dance floor – which, in turn, directly supports our mission to spread the good word of Conscious Dance. Money raised beyond the cost of the floor will be used to upgrade our infrastructure and to create the RhythmWave Network – an online, global directory of Conscious Dance facilitators and classes.
So there you go. Do you want to dance with RhythmWave this year (and hopefully for another ten years)? Have you danced with RhythmWave before? Did your life change at RhythmWave? Want to pay that forward?
Your donation before the end of May 2017, through this Generosity fundraiser, is a great way to give back… and give forward. RhythmWave needs your help. RhythmWave needs YOUR help. And all those other folks who need RhythmWave but haven't found us yet need your help, too.
We can do it… but we can't do it without you!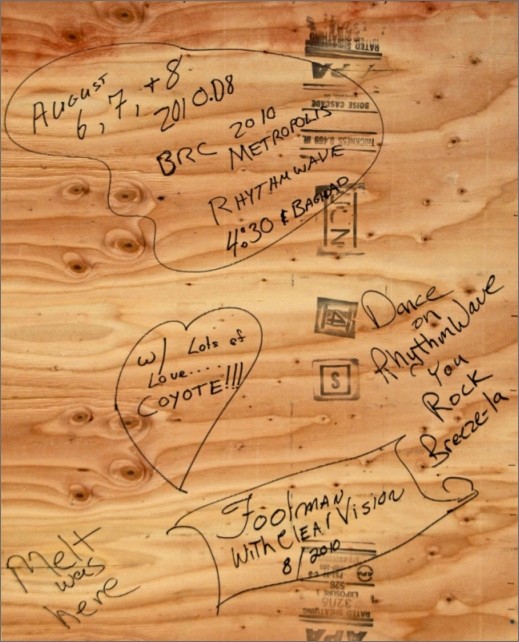 < BACK TO NEWS