The Moving Center 2015 Workshop Schedule
December 2, 2014
"I know that if a wave of energy is allowed to complete itself it yields a whole new wave.
In fact, that is all I really know." ~G. Roth

Dear Dancing Feet,
As we approach the end of another year, are you listening to that essential call in your body to create a good ending, to complete this wave of energy around the sun together, as a unified planet of beings?
Through the 5Rhythms, we practice giving permission for our own moving centers to guide our bodies through our Waves week in and week out. Creating, meeting and receiving beginnings and endings for our selves and for our tribe, weaving our contribution to the worldwide tapestry of feet first instinct and intuition that begins and ends every part of every day of our lives with grace.
The Moving Center New York is honored to end this year welcoming 5 new teachers to our local tribe. Our teachings are growing and our class offerings are growing with it; we now have 13 weekly NYC classes to practice meeting the waves on the dance floor and in life.
Join us also on December 13th as we create a good ending to our yearlong 5Rhythms Fundamental Series exploring the simplicities of the 5Rhythms energetic map that is the simply profound foundation for our moving meditation.
Begin 2015 anew with our monthly workshop schedule held by 11 unique local and visiting international teachers that will guide your deepest dance to the edge and back. Our bodies are our compass, the 5Rhythms our map.
Wishing your feet joyous holidays and new possibilities for the new year.
Blessings,
Jonathan
TO VIEW THE FULL NEWSLETTER CLICK HERE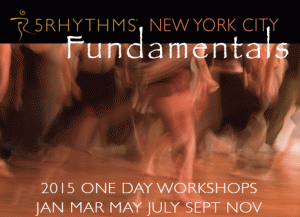 < BACK TO NEWS