The surprise of 5Rhythms
December 27, 2015
by Anja Mutic
First printed June 29, 2009 EVER THE NOMAD

My name is Anja. I'm a New York-based travel writer who also takes an occasional good photo. Whether I'm traveling through the back roads of some faraway country or sitting in my Brooklyn apartment on a rainy night, this is where I share my thoughts and impressions.
—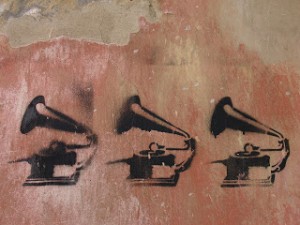 A few weeks ago, I wrote a story for the travel writing competition by Bradt/Independent on Sunday. I had recently discovered 5Rhythms and inspired by the experience, I scribbled this in thirty minutes after returning from class one evening. The theme of the competition was 'Destination Unknown'. To my pleasant surprise, my story was shortlisted – out of hundreds of submissions, mine made it to the final circle of 19 stories. Even though I didn't win, I thought that was pretty cool. So I decided to share my story:
Tuesday evening. Early spring. New York City. I hop on the subway near my Brooklyn apartment for a quick ride to a West Village dance studio. I have the address, I have the cross streets. My destination: a first-time class of 5Rhythms, a dance turned into a global community. Movement in meditation, as a friend described it once. Still, I am unprepared. No clue about what awaits on the other side. Just a hard fact of Manhattan, looming across the East River.
I arrive to a cavernous room with sky-high ceilings. It is dark, save a series of video projections gleaming on the walls. The music is slow, entrancing. Around me, people are warming up, stretching in downward-facing dogs, sun salutations. Different ages, life stages, hairstyles, fashions, facial expressions. Some are dancing at a snail's pace. Others boogie nervously. I'm gently told to take off my shoes and join the dance floor.
I still don't quite know what's happening. Then, unhurriedly, the music pulls me in. I start to move. As do those who a second ago seemed shy, obvious novices like me. I close my eyes, still not knowing what exactly I am doing here, or even where I am. Those cross streets outside make sense no more.
And then the wave begins. New York, the world, it all slips away. I start to move more freely. The music rushes through me like that adrenaline-filled moment of arriving to an unknown city that's topped a dream list for years. The next thing I know: African drums are making my muscles shake in ways previously unknown to my body. I could be in some backwater village of Angola, it is nighttime and the stars are bright. Then I'm off to India – my hips swaying, the belly fluttering in tune with melody. Before I know it, I am kicking my legs up and sensually sliding across the floor to the sound of Argentine tango, alone, as if tango were a desert island. A didgeridoo calls me to the outback where I can nearly feel the dry red rock under my bare feet, the smell of eucalyptus forest, a waft of scented wind.
For two entire hours, I dance. And I travel, from country to continent, from city to hamlet. A journey with no map, no itinerary and no destination. Despite the random wanderings of my body, the rhythm roots it into this very moment. There is no other place I'd rather be. There is no place I want to go. My wanderlust, quenched.
Five rhythms create the giant wave the whole room is riding – Flowing, Staccato, Chaos, Lyrical and Stillness. Each mood: a stop en route to yet another unfamiliar place. There is no guidebook for where the music takes me. How does my body wax lyrical without getting lost? I discern no pointers to what lies in the chaos of my mind.
Around me, an eight-year-old boy is circumnavigating the room in big sweeps, like a ship on a stormy day. His mother dances in place, looking up, perhaps for a happier day. A handsome young man is down on the floor, making spiral shapes with his body, creating a map through movement. A middle-aged gentleman nods his graying head in perfect unison with music.
There is no rhyme or reason. There is just rhythm, five of them. None of us in the room know where we're heading. Each new song becomes a destination. Some are dark. During one drum-filled crescendo, I remember the father I lost to cancer two months ago. I cry like a child, abandoned. Another song makes me as carefree and happy as a sunny afternoon on one of Lisbon's seven hills. Then angst overwhelms, like the afternoon I lost my way in the maze of Marrakesh souks.
I keep on dancing. I can't return, yet I don't know where I'm heading. Ever moving is among the few rules of 5Rhythms. You don't stop. Where you're going matters not. If only the very point of your little finger is stirring, if only softly, the journey is on. Destination: unknown. How refreshing just to be, without itinerary, objective, sights to see, restaurants to eat at, bars to forget in. On this journey, there's just intention. And there's music.
< BACK TO NEWS