The Deepening (5 Day Waves intensive)
Rhossili - 3 May 2023 to 7 May 2023
Bernadette Ryder
Residential 5 day Waves Intensive
About the workshop
The Deepening, Waves Intensive is a deep dive into the fundamental teaching of the 5 Rhythms – how to surrender to the flow of our own energy through dance, enabling us to recover that vital spontaneity. When intensively pursued, this simple exploration rapidly brings us face to face with our inhibitions, our masks and other defences we have taken on.
The deeper practice includes simple ways for these to begin sliding away – a meditation that redresses imbalances in modern lifestyles. So while the dance is exhilarating and physically liberating, it also brings quiet to the mind and a profound sense of internal stillness within movement.
The residential setting has been chosen to bring together all the ingredients needed to facilitate this deepening: Time and space in a beautiful, peaceful location on the stunning Gower coast. A supportive community of committed dancers. Nourishing whole earth food. A highly experienced teacher. The perfect recipe.
The greatest gift of the 5 Rhythms is that, when engaged with deeply and fully, it takes us on a journey of progressive expansion towards our full potential as creative, loving beings. Catalytic in nature, it works to free the body, open the heart, still the mind and awaken consciousness. Ultimately, this entirely physical practice is a spiritual experience.
Questions? Contact Jon here:
https://in-rhythm.com/#getintouch
(click 'GET IN TOUCH' button)

SCHRIJF JE VANDAAG IN!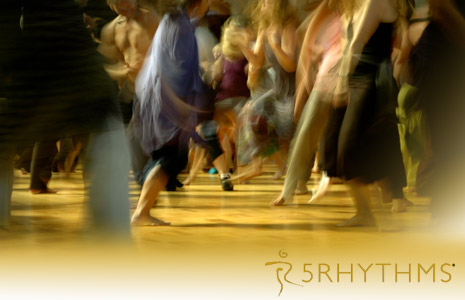 In Full Flight (live muic)
Newport, Pembs - 13 May 2023 to 14 May 2023
Alex Mackay
Allowing the potential of our true identity to lift us up - learning from the challenges and blessings of the present, nourished by our essential wild nature, and extending our wingspan.

With plenty of space on the dance floor, we will follow 5Rhythms maps to welcome our sunshine and moonlight aspects, unite opposites, and enjoy the beauty of Springtime. Welcoming the experiences that give us vitality and inspiration.

Our weekend will include lots of dancing to live music, and a prayer feather ritual
"The soul can only be present when the body and spirit are one. Once the body surrenders to movement, your soul will remember it's dance. When the soul is in charge, your life becomes a love story." Gabrielle Roth
SCHRIJF JE VANDAAG IN!