MEDICINE CIRCLE IN TUCSON AZ
Tucson - 24 Feb 2023 to 26 Feb 2023
Sylvie Minot
Join Syzygy Dance Project founder, Sylvie Minot and co-founder Wendy Heffner in Tucson Arizona for a special Medicine Circle event. Medicine Circle is a powerful weaving of dance, sound healing, ritual, community, prayer, and connection in February 2023.

You will take inspiration from the powerful Santa Catalina Mountains, the Sonoran Desert, the Saguaro cactuses, the palo verde blooms, and the ever-present desert sunshine.

Developed by 5Rhythms teacher Sylvie Minot 15 years ago, Medicine Circle combines powerful lineages—Gabrielle Roth's 5Rhythms Movement, cultural anthropologist Angeles Arrien Ph.D.'s Four-Fold Way, and sound healing with Peruvian master Tito LaRosa.

In Medicine Circle, you dance, and the circle holds the big, small, quiet, loud, joyful, still, cathartic, and everything-in-between dances. Sylvie and Wendy use sound—drums, rattles, bells, rain sticks, and song—to call Spirit back in. We pray, for ourselves, for others, and for the greater whole. You will call on your ancestors, guides, and the spirit of the land, honoring your past and creating new pathways for healing.

Dancing together in this sacred way is our medicine.
SCHRIJF JE VANDAAG IN!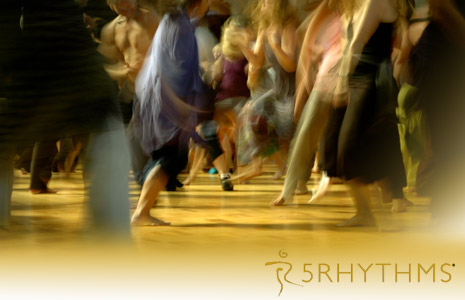 Maps to Ecstasy
Dallas - 10 Mar 2023 to 12 Mar 2023
Lucia Horan
"When we experience moments of ecstasy, we taste what life is meant to be." -- Gabrielle Roth
Maps hold all the information required to lead us to where we want to go. What is your destination?
In times of turmoil and change, Somatic Meditation can assist you in navigating your way out of resistance and into ecstasy. Through Gabrielle Roth's 5Rhythms® movement practice and mindfulness meditation, one may build a skillset that supports balance, ease, and joy. If you have been looking to increase appreciation, gratitude, and happiness, then now is a perfect time to celebrate being alive and embodied.
There is a science to achieving ecstatic states, and this is the mastery I have come to share. This workshop is designed for all who want to join in expanding the possibility of entering altered states in a natural way.
This workshop will include discourses on 5Rhythms philosophy, guided embodied practice, some seated meditation, Dharma talks, and inspired sharing.
"I want to take you to a place of pure magic… It's the place athletes call the "zone". Buddhists call "satori" and ravers call "trance". I call it the Silver Desert. It's a place of pure light that holds the dark within it. It's a place of pure rhythm." -- Gabrielle Roth
- No experience required.
- This is a substance-free event.
- All workshop hours contribute to
5Rhythms® teachers training prerequisites.
- Recommended Reading: Maps To Ecstasy by Gabrielle Roth and Dancing With Dharma edited by Harrison Blum.
DATE | Friday, March 10 thru Sunday, March 12, 2023
SCHEDULE |
Friday: 7 - 10p
Saturday: 10a - 4p
Sunday: 10a - 2p
INVESTMENT |
$250 | first 10 registrants
$299 | thru Feb 14, 2023
$350 | starting Feb 15, 2023
* Limited scholarships and specific discounts available upon request. Contact producers.
ABOUT LUCIA HORAN | 5Rhythms® ::
Lucia Rose Horan was born into the family of the 5Rhtyhms®. She has been dancing with Gabrielle Roth from the time of her birth.
Raised in the community of Esalen® Institute , in Big Sur, CA, Lucia was certified to teach the 5Rhythms in 1998. She has taught globally, including at: Esalen Institute (CA), Omega Institute (NY & Costa Rica), Kripalu, Centro de Ompia (Italy), The Studio Maui (Hawaii), TNK Psychology Institute (Osaka and Tokyo Japan), The Moving Center School (San Francisco and NYC).
Lucia Horan is recognized as a celebrated international teacher of the 5Rhythms® practice. She brings to her teaching practice a lifetime of experience with the 5Rhythms® as a way to move through the fabric of life's experiences. She comes to the dancefloor to share her love for the dance and faith in the practice. www.luciahoran.com
CONTACT |
Sarah Sampson, Producer + CEO [&] Monica Blossom, Producer + Founder @ Ecstatic Dance Dallas
email >>> ecstaticdancedallas@gmail.com | 214.597.6800 >>> text
SCHRIJF JE VANDAAG IN!