Duitsland
My teachers are like good wines. Try them all! ~ G. Roth
Von Nord bis Süd und Ost bis West: in Deutschland gibt es eine Vielzahl von 5Rhythmen-Angeboten. Ob in ländlichen Gebieten oder in den größeren Städten – unsere Praxis ist die gleiche, und doch haben die verschiedenen 5Rhythmen-Tribes ihren eigenen "Geschmack".
Wir geben den Raum dafür, dass in Bewegung kommt, was sich bewegen will, dass ausgedrückt wird, was sich ausdrücken will, dass jeder auf seine einzigartige Weise zu sich findet und die Lust entdeckt in Bewegung zu sein, mit allem was ist. Sei willkommen!
Es gibt offene Abende, fortlaufende Gruppen, mehrtägige Seminare u.v.m. Neben einer qualifizierten Anleitung wirst du auf Menschen treffen, die in Bewegung sind.
Immer wieder ist es ein spannendes Erlebnis, wenn wildfremde, grundverschiedene Menschen auf der Tanzfläche zusammenkommen, durch die Bewegung ein Sich-Öffnen geschieht und fast unmerklich aus Fremdheit Vertrautheit entsteht. Lass dich überraschen!
Wekelijkse Lessen
Actuele Workshops
Alive !
Mauenheim - 3 Apr 2020 to 5 Apr 2020
Willemijn de Dreu
SCHRIJF JE VANDAAG IN!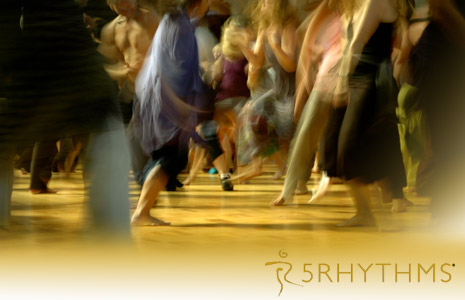 Coming Home CANCELLED
Berlin - 3 Apr 2020 to 5 Apr 2020
Erik Iversen
 "Your body is the ground and metaphor of your life, the expression of your existence. It is your Bible, your encyclopedia, your life story. Everything that happens to you is stored and reflected in your body. In the marriage of flesh and spirit divorce is impossible."  Gabrielle Roth

The body shapes your home from your first breath and your first encounters with gravity.  From my observation many of us exist solely in the mind, obsessed with thoughts and figuring "it" out.

During this 5Rhythms event we shall explore proprioception, sensations and balance as we establish a new relationship to gravity – the feeling of having our feet under us. We will also experience the liberating energy of conscious breathing. Together and alone, while moving and dancing, we will discover our foundation for playful presence in the moment and create a new story about being creative and at home in our bodies.

Die Unterrichtssprache ist Englisch. Übersetzung bei Bedarf.

Der Körper formt unser Zuhause vom ersten Atemzug an und bei unserer ersten Begegnung mit der Schwerkraft. Aus meiner Beobachtung heraus existieren viele von uns ausschließlich im Kopf, besessen von Gedanken und davon, "es" herauszufinden.

Während dieses 5Rhythmen-Workshops werden wir Eigenwahrnehmung, Empfindungen und Gleichgewicht erforschen, während wir eine neue Beziehung zur Schwerkraft aufbauen – das Gefühl, unsere Füße unter uns zu haben. Wir werden auch die befreiende Energie der bewussten Atmung erleben. Gemeinsam und allein, beim Bewegen und Tanzen, werden wir die Grundlagen für eine spielerische Präsenz im Moment entdecken und eine neue Geschichte über das Kreativ-Sein und das In-unseren-Körpern-Zuhause-Sein schreiben.
SCHRIJF JE VANDAAG IN!
Lokale docenten