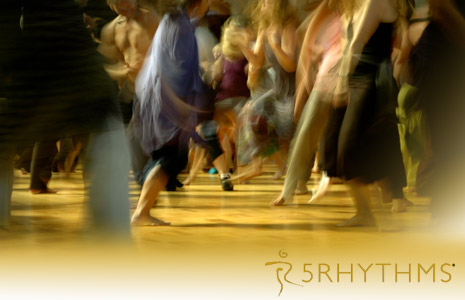 Fluidity, Power and Release
Sacramento - 3 Feb 2019 to 7 Apr 2019
Bella Dreizler
5Rhythms dance: effortless fluidity, focused power and the freedom of release. Awesome. And here's a dismal truth: this physical practice can stress your body in harmful ways. We move on the dance floor with whatever ails us and sometimes those difficulties get worse out there. Or we develop new problems as we dance: hips, knees, feet, back, neck, shoulders. What to do? Come for some playful informative afternoons that can radically shift your practice. Develop new skills in supporting your ever-aging body. Instead of pushing through pain (which never works!), tend to this only-one-you-get body before you hit that floor and even as you dance.
Fluidity: rollers soften and enliven those stuck areas—spine, shoulders, legs. Gently come into a grounded grace and natural ease in flowing.
Power: ball work, breath, muscular and fascial awareness re-connect you to an alive belly and heart, your deeper being. Move from an awakened center in the potent clarity of staccato.
Release: rollers, balls, hands on—so many ways to loosen up from head to tail. Dance into an embodied effortless let go in the surrender of chaos.
Here's my invitation: gift yourself with attending this three part series, feel each session build on the last. And yes, you can drop in to any one since each session begins with a review of the previous ones. Here's what's so cool: we end each session recording a brief sequence for home follow through on your personal video device. This is expertise garnered over a long lifetime offering long-term health both on and off dance floor. Being fluid, powerful and released…that's your natural birthright. Come dance into a deeper being.
SCHRIJF JE VANDAAG IN!
Body Prayer
San Diego - 3 Mar 2019 to 3 Mar 2019
Christina Graham-Smith
Body Prayer
a 5Rhythms® Day Workshop with Christina
Movement as a spiritual practice
A place where we Sweat our Prayers
The dance transforms into a mystical experience
a body prayer
a conversation beyond words and limitations
We come to be danced, moved & celebrate our true essence
You are invited to a day of Body Prayer
Location: Dancing Unlimited, 4569 30th St. San Diego
Sunday, March 3, 2019
11:30-1:30 Open to all for our regular class
1:30-2:30 Community Potluck
2:30-5:30 Body Prayer
Whole Day Early Bird $60 (by 2/10)
Drop-in $75
Register at Christina5Rhythms.com go to purchases
Reach out to Christina@Harmonywaves.net
SCHRIJF JE VANDAAG IN!