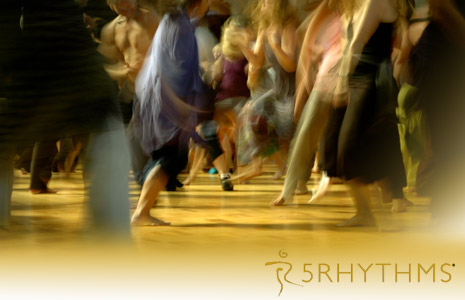 Fluidity, Power and Release
Sacramento - 3 Feb 2019 to 7 Apr 2019
Bella Dreizler
5Rhythms dance: effortless fluidity, focused power and the freedom of release. Awesome. And here's a dismal truth: this physical practice can stress your body in harmful ways. We move on the dance floor with whatever ails us and sometimes those difficulties get worse out there. Or we develop new problems as we dance: hips, knees, feet, back, neck, shoulders. What to do? Come for some playful informative afternoons that can radically shift your practice. Develop new skills in supporting your ever-aging body. Instead of pushing through pain (which never works!), tend to this only-one-you-get body before you hit that floor and even as you dance.
Fluidity: rollers soften and enliven those stuck areas—spine, shoulders, legs. Gently come into a grounded grace and natural ease in flowing.
Power: ball work, breath, muscular and fascial awareness re-connect you to an alive belly and heart, your deeper being. Move from an awakened center in the potent clarity of staccato.
Release: rollers, balls, hands on—so many ways to loosen up from head to tail. Dance into an embodied effortless let go in the surrender of chaos.
Here's my invitation: gift yourself with attending this three part series, feel each session build on the last. And yes, you can drop in to any one since each session begins with a review of the previous ones. Here's what's so cool: we end each session recording a brief sequence for home follow through on your personal video device. This is expertise garnered over a long lifetime offering long-term health both on and off dance floor. Being fluid, powerful and released…that's your natural birthright. Come dance into a deeper being.
REGISTER TODAY!
EMBRACE LOVE
San Francisco - 15 Feb 2019 to 17 Feb 2019
Alessandro Moruzzi
"The biggest embrace of love you'll ever make is to embrace yourself completely. Then you'll realize you've just embraced the whole universe, and everything and everybody in it."
- Adyashanti

Let's embrace ourselves, completely. Surrendering.
Let's experience the ecstatic embrace of self love, deeper and deeper exploring and re-discovering every part of ourselves: our bodies, our minds and our souls.

This time focusing on our hearts. Stepping into the lights and shadows of our emotions, guided and supported by the power of the 5Rhythms Heartbeat map.

In this journey we'll find out that Fear can be our protection, Anger our defense and Sadness our release. And we can uplift ourselves into Joy, to reach Compassion and the connection with everything.

"Incredibly grateful to Alessandro for being the Guide & Space holder....many hearts were cracked open this weekend and are loving way beyond where we've loved before!" - Karen M.

REGISTER TODAY!