California
Do you have the discipline to be a free spirit?
Weekly Classes
Upcoming Workshops
BODYWAVE-Tuesdays Committed Series
San Francisco - 28 Jan 2020 to 3 Mar 2020
Vehllia Tranne
Going through the Wave of 5Rhythms with our bodies is very much like surfing, floating and diving in the ocean waves. Paying attention to our breathing to every single muscle and responding with intuitive grace the currents of the beats and the rip tides of the unexpected arising feelings.

In this committed series we will focus on the mirages of possibilities of movements and the uncovered or underutilized strength of our bodies.

It's a personal and intimate exploration with the same dancers who are committed to show up weekly for six weeks. The committed group will hold a more than ever safe space for the maximum support and benefit to each and everyone of us for the journey to unfold. Everyone is welcomed.

Each class will build on the last, as we go deeper together. In creating a deep and safe space for all, please attend all classes if possible and arrive on time. Sometime there's circumstances beyond our control and you need to miss class, please let us know ahead of time. However there's no discount or refund for missed classes.  

No Prerequisites. The hours of this class qualify for the Waves requirement for the 5Rhythms Teacher Training.
REGISTER TODAY!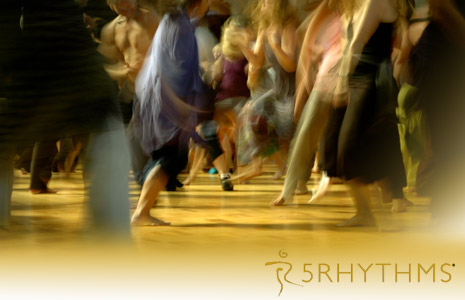 Dancing With The Dharma
Big Sur - 31 Jan 2020 to 2 Feb 2020
Lucia Horan
In order to truly understand the dance, one must be still. And in order to truly understand stillness, one must dance. –Rumi
If you can liberate the body, then the heart-mind can follow. In this retreat of meditation and movement, will we integrate the stillness of Buddhist mindfulness meditation with the moving meditations of the 5Rhythms®. The Buddha encouraged us to bring wise attention to every aspect of our lives. In sitting meditation, we have the opportunity to observe the mind and body at rest through silent introspection. In the practice of the 5Rhythms®, we engage in mindfulness while in motion. The 5Rhythms® is a map that teaches how energy moves. The two polarities of moving and sitting meditation together mirror the dance of life.
We encourage meditation students to practice mindful dancing in order to bring balance and insight into their lives. We invite dancers to engage in sitting meditation in order to embody integration, balance and insight. Join us for the groundbreaking union of these two deep and wise practices.
REGISTER TODAY!
Local Teachers