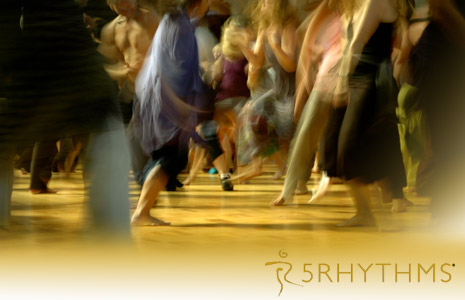 Fluidity, Power and Release
Sacramento - 3 Feb 2019 to 7 Apr 2019
Bella Dreizler
5Rhythms dance: effortless fluidity, focused power and the freedom of release. Awesome. And here's a dismal truth: this physical practice can stress your body in harmful ways. We move on the dance floor with whatever ails us and sometimes those difficulties get worse out there. Or we develop new problems as we dance: hips, knees, feet, back, neck, shoulders. What to do? Come for some playful informative afternoons that can radically shift your practice. Develop new skills in supporting your ever-aging body. Instead of pushing through pain (which never works!), tend to this only-one-you-get body before you hit that floor and even as you dance.
Fluidity: rollers soften and enliven those stuck areas—spine, shoulders, legs. Gently come into a grounded grace and natural ease in flowing.
Power: ball work, breath, muscular and fascial awareness re-connect you to an alive belly and heart, your deeper being. Move from an awakened center in the potent clarity of staccato.
Release: rollers, balls, hands on—so many ways to loosen up from head to tail. Dance into an embodied effortless let go in the surrender of chaos.
Here's my invitation: gift yourself with attending this three part series, feel each session build on the last. And yes, you can drop in to any one since each session begins with a review of the previous ones. Here's what's so cool: we end each session recording a brief sequence for home follow through on your personal video device. This is expertise garnered over a long lifetime offering long-term health both on and off dance floor. Being fluid, powerful and released…that's your natural birthright. Come dance into a deeper being.
REGISTER TODAY!
Ready? Set. Flow!
Berkeley - 22 Mar 2019 to 22 Sep 2019
Sayrah Garrison
What if you woke up tomorrow to find you were living your best life possible? What would your life look like and how would it be different from today?
In this 3 part series, we will use the map of the 5Rhythms to explore these important questions and will use potent exercises designed to help us achieve our life goals!
There will be a 30-45 minute ZOOM call scheduled before & after each workshop to support each dancer in their inquiry.
Reading assignments from Connections by Gabrielle Roth & The Call by Oriah Mountain Dreamer will be offered as support on our journey and will be reviewed during the ZOOM call prior to each workshop.
Sayrah Garrison draws from over a decade of experience as a Clinical Social Worker with trainings in Yoga, Neurolinguistic Programming (NLP) and Mindfulness Based Stressed Reduction (MBSR) to name a few. She has worked extensively with at risk youth, adults with co-occurring disorders (substance use & mental health issues), individuals with severe mental illness (psychosis) and other marginalized populations. She is the founder of Deep Dive Oakland, and has been teaching a weekly 5Rhythms class in Oakland for almost 5 years.
March 22-24
June 21-23
Sep 20-22
Fridays, 6pm-8:30pm
Saturdays, 11am-6pm
Sundays, 11am-5pm
All 3 workshops: $600
Individual workshops: $225
To register, visit http://www.sayrahgarrison.com/workshops--events.html
​These workshops are designed to build upon each other; therefore attendance to all 3 workshops is highly recommended in order to gain the highest possible benefit. I have done my best to offer the lowest possible rate to make this work accessible to all; however, please do not hesitate to contact Sayrah if money is a hinderance to your ability to attend.
Please bring comfortable clothes to move in (layers are best). Bring bottled water, a bag lunch and anything else that you may need to be comfortable during our time together.
Workshop details will be emailed upon registration.
Additional questions, please call Sayrah at 808-430-9423.
Counts as 15 Waves level hours for those on the Teacher Training path.
REGISTER TODAY!