Švicarska
Dance. Because you are fascinating.
Tjedni Satovi
Radionice
Elements
Thun - 19 Oct 2019 to 19 Oct 2019
Peter Tschanz
Einführung in die Grundlagen der 5Rhythmen Wave Praxis. Spielerisches Erforschen der verschiedenen Elemente in der bewegten Meditation.
Nur mit Anmeldung (bis spätestens am 17.10.19)

Flowing - vertrauensvoller Halt, rezeptives Ankommen im Körper mit viel Entspannung, Weichheit und nährendem Atem. Erkennen derMöglichkeit, auch in Zeiten des "Sturmes "immer wieder in diese Entspannung zurückkommen zu können
Staccato - Rhythmus des Herzens, Transformation, Mut, die eigene Wahrheit und die eigenen Grenzen wahrzunehmen, diese mit Überzeugung und innerer Klarheit zu vertreten und in die Welt zu tragen
Chaos - aufweichen von hindernden Glaubenssätzen und Verhaltensmustern. Die Beschränkungen, die uns der Verstand glauben machen will, erkennen und den eigenen Raum kontinuierlich erweitern
Lyrical - Bewegung ohne Anstrengung, ein verspielter, luftiger Tanz der Seele, verbunden und präsent weit über die Grenzen des physischen Körpers hinaus
Stillness - bewegter Atem - geatmete Bewegung. Eintauchen in die nährende Fülle der Stille, der Leere und den endlosen Raum

Sowohl als Einstieg für Newcomers als auch als Vertiefung für erfahrene Tanzende geeignet.
Herzlich willkommen - ich freue mich!
PRIJAVI SE!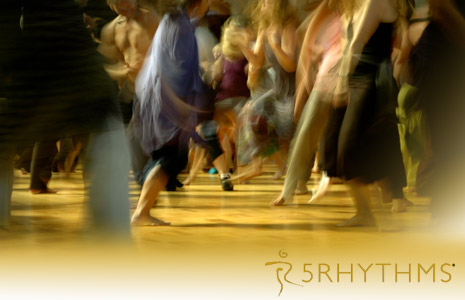 HoloWave: PASSION
Zürich - 25 Oct 2019 to 27 Oct 2019
Monika Ortner
CATCH A DEEPER WAVE!
Finde die Schätze der Leidenschaft in den 5 Rhythmen
Was sind DEINE authentischen, brennenden Herzenssehnsüchte, die in jeder rhythmischen Bewegung schlummern und nur darauf warten von dir aufs Neue entfacht zu werden?
Monika Ortner (CH) und Otto Richter (USA/DE) werden dir klar und liebevoll helfen, dich mit deinen heiligen inneren Feuern zu verbinden, die dich auf deiner weiteren Reise hin zu einem erfülltem Leben mit der nötigen Energie versorgen werden. Otto war ein enger Mitarbeiter von Gabrielle Roth in den Anfängen ihres The Moving Center®. Er war der erste, der bereits 1985 die 5 Rhythmen in Europa unterrichtet hat. Monika praktiziert die 5 Rhythmen seit Anfang der 90er Jahre und leitet sie seit 2014 an, wobei sie besonderen Wert darauf legt einen urteilsfreien Raum zu schaffen, in dem jeder voller Bewusstheit und Inspiration zu seiner eigenen Authentizität findet.
Gemeinsam werden sie dich bei deinem Prozess begleiten, bei dem spezifische in- nere Seinszustände mit den verschiedenen äußeren Bewegungsrhythmen kombiniert werden. Du wirst Möglichkeiten kennenlernen, wie du Körper, Geist und Seele ganz gezielt beeinflussen kannst, sodass sich deine Palette im Umgang mit den alltäglichen Herausforderungen nachhaltig erweitert und du Zugang zu deinen tiefsten Ressourcen bekommst. Mach mit, und dein Leben wird zu einem bewussten Tanz voller Freiheit, Erfüllung und Vergnügen.
PRIJAVI SE!
Lokalni Učitelji