Switzerland
Dance. Because you are fascinating.
Weekly Classes
Upcoming Workshops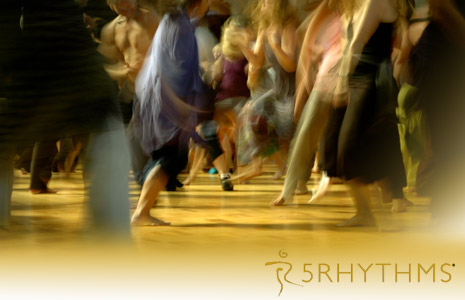 EMBODYMENT, 5R AS A DAILY PRACTICE
Basel - 1 Sep 2018 to 2 Sep 2018
Alain Allard
Once we begin to attend to the rhythms of the body then we begin to hear more clearly the rhythms of life. The voice of the heart and gut intelligence call as loudly to us as the trees in the wind, clouds in the sky and the passing of seasons. The habits of dulling our creative response to Life's unfolding by numbing down and overthinking are a reversible product of our conditioning. We have learned to stop listening, replace being with doing and seeing with judging.
The 5Rhythms® practice is a simple, dynamically powerful moving meditation practice that can help us wake up to being, feeling and seeing the world and the preciousness of Life with the creative wonder that we were born with. In this workshop, we will work with many of Gabrielle Roth's simple and powerful Maps to regain physical and emotional presence and greater fluidity. The more we can learn to simply move what we experience the more able are we to actually be present and so live fully and be creative.
REGISTER TODAY!
DE LA DELICATESSE A LA PUISSANCE
Geneva - 13 Oct 2018 to 14 Oct 2018
Marc Silvestre
DE LA DELICATESSE A LA PUISSANCE
Stage de Danse des 5 Rythmes avec Marc Silvestre
Niveau Heartbeat®
La délicatesse s'apprivoise, s'écoute. La réelle puissance découle de cette délicatesse. Dans ladanse,ilyatoutàgagnerà prendre le temps de revenir en soi, de laisser la respiration porter le geste. Dés que ce retour au coeur de qui l'on est, impulse la danse, il n'y a qu'à suivre ce chemin, le laisser prendre l'espace, le laisser être rencontré. La carte Heartbeat® qui découlent des rythmes permet de faire émerger les émotions pour les laisser soutenir et nourrir notre mouvement.
C'est une forme de voyage que je vous propose. Chaque étape vous est personnelle et résonne avec le groupe. Laissez la danse vous guider...
DATES & HORAIRES
Samedi 13 octobre de 10h à 16h 
Dimanche 14 octobre de 11h à 18h
LIEU 
Maison des Arts du Grütli
16 rue du Général Dufour 
1204 Genève
TARIFS
CHF 280.- (normal)
CHF 240.- (réduit, étudiants, AVS, chômage)
CHF 210.- pour une inscription (avec paiement de l'intégralité du stage) avant le 31 août 2018. 
CONTACT
Sara Cereghetti 
waveyoursoul@gmail.com
+41 79 314 50 44
REGISTER TODAY!
Local Teachers