THRIVE (MONEY WORKSHOP) Part 1
Ljubljana - 22 Oct 2021 to 24 Oct 2021
Evangelos Diavolitsis
Movement practice of Gabrielle Roth's 5Rhythms®
Led by Evangelos Diavolitsis, certified 5Rhythms® teacher
THRIVE
What is your relationship to money? How does your body respond when you speak or visualize the words Wealth, Thrive, Abundance and Prosperity?
Exploring these oft taboo topics through movement and dance can reveal unconscious money patterns that may be inhibiting you from achieving your full potential in life. One of the many reasons we have survival challenges is because we have not learned to manage our personal energy stream.
Within the framework of the 5Rhythms movement practice, we will go on a physical journey through 8 money archetypes: The Victim, The Innocent, The Warrior, The Martyr, The Fool, The Artist, The Tyrant and The Magician. By understanding, naming and moving through money blind spots that no longer serve us, we will rewire and practice new somatic habits that will enable us to move from scarcity and survival into abundance, prosperity and ultimately a place of THRIVING!
We will learn to transform greed into generosity, hatred into love, confusion into clarity, and boredom into opportunity.
October 22nd – October 24th 2021
WORKSHOP SCHEDULE
Friday, October 22nd, 19.00 - 21.00 (open Wave)
Saturday, October 23rd, 11.00 - 18.00*
Sunday, October 24th, 10.30 - 17.00*
LOCATION: Ljubljana (you will receive a more detailed location upon registration)
REGISTRATION: https://forms.gle/GWALkMyXW8PZc1jw8
INFORMATIONS: Martina, martina_motl@yahoo.com, 00386 31 616 267.
WORKSHOP PRICE: full – 210 €,
early birds until October 13th – 175 €,
only Open Wave (sliding scale): 20 €*
*for participants of the Workshop, Open Wave is included into the price
EVANGELOS DIAVOLITSIS: Evangelos is a 5Rhythms® movement teacher, coach and meditation teacher with a passion for integrating the path of awakening through art and business. As well as being a certified master money coach and visionary entrepreneur, Evangelos regularly mentors people on the art of integrating the spiritual path with a financially balanced material life. He regularly teaches across Canada, Asia, Europe and the Americas.
"My greatest passion is helping people let go of who they think they need to be and embrace who they believe they could never be."
fourwaystofreedom.com
Evangelos has artfully fused the complicated subject that everyone has to deal with but nobody wants to talk about, MONEY, with the embodiment of the 5Rhythms practice!!! Similar to our levels of relationship with lovers... friends.... coworkers.... family and foe... Evangelos has taught me that money is simply an energy that we can view and move in a positive, negative or "its complicated" way.
Like the energies of the rhythms we can move the energetic and our relationship with money to find clarity and healing.
You'll go in with your reason of why you're here, and come out having discovered why you were actually meant to do this ground-breaking work. Warning! They will likely be different!!!
Jonathan A Horan
Executive Director – 5Rhythms Global
No previous experience is required in order to participate in this workshop. This workshop counts towards 5R Teacher Training electives pre-requisites.
Without steps or choreography to learn - instead, learn to listen to ourselves and our body through dance, movement and breathing. Let's dance together!
Invite your friends to dance with you!
We meet you all on the dance floor!
5R Slovenia Team
REGISTER TODAY!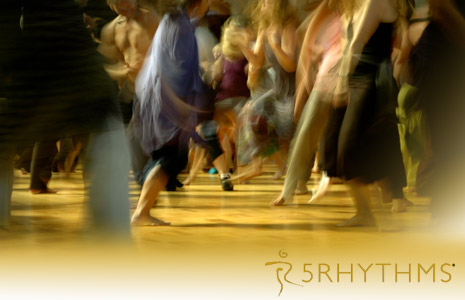 Eat, dance, pray - 5Rhythms with Martina and Family Constellations with Anze
Velenje - 5 Nov 2021 to 7 Nov 2021
Martina Motl
-
Anze Bertoncelj
Movement practice of Gabrielle Roth's 5Rhythms®
Led by Martina Motl, certified 5Rhythms® teacher
Anže Bertoncelj, Family Constellations Facilitator
EAT, DANCE, PRAY
What nurtures me?
Who will dance my dance if not me?
Hope is prayer, where do I want to direct it?
In this 3-day workshop, we will combine knowledge, love, wisdom and handed over the teachings of two recognized international methods, 5Rhythms method and Family Constellation method. In the latter, Anže will raise awareness of the unconscious patterns that shape our lives. We will recognize the relationships that benefits us and the relationships that limits us at our ancestors. We will pay tribute to them for everything we have received and become aware of who supports us on our path. With Martina, we will explore and dance maps of 5Rhythms method; we will look for fluidity in our patterns of movement, encourage expression, let go of what no longer serves us, find lightness and calm ourselves in mindful movement, and find our own path and our own flow independent of our family systems.
The workshop includes accommodation in two, three and several-bed rooms, food that will pamper us and is produced according to the principles of biodynamics. In the evening we will meet by the fire, again for the second time we will spend the evening in sauna, and for the brave there will also be possibility to jump into the lake.
Are you ready for an unforgettable experience? Contact us, we will be happy to answer your questions.
November 5th – November 7th
WORKSHOP SCHEDULE
Friday, November 5th
15.30-16.00 arrival and reception of participants and rooms layout
17.00-17.30 introductory meeting and presentation of the work of Martina and Anže
17.30-19.00 introductory 5Rhythms wave
19.00 light dinner
20.00 socializing by the fire
Saturday, November 6th
8.00-9.30 breakfast
10.00 -12.30 Family Constellation with Anže Bertoncelj
12.30-14.00 lunch with rest
14.00-16.30 5Rhythms with Martina Motl
16.30-19.00 sauna (optional)
19.00 light dinner
Sunday, November 7th
8.00-9.00 breakfast
10.00-12.30 Family Constellation with Anže Bertoncelj
12.30-14.00 lunch with rest
14.00-16.00 5Rhythms with Martina Motl
16.00-17.00 conclusion
LOCATION: Veduna, retreat centre, Lopatnik 4, 3320 Velenje, Slovenia - https://vedunaretreats.com/
REGISTRATION: https://forms.gle/XNjoe4PhLXcEmN6V9
INFORMATIONS: anze.bertoncelj@gmail.com, 0038640 210 440 and martina_motl@yahoo.com, 0038631 616 267
WORKSHOP PRICE: full – 210 EUR
early birds until October 26th – 175 EUR
ACCOMMODATION PRICE:
Single room (320/280 EUR per person, for three days, two nights + meals)
Double room (216 EUR per person for three days, two nights + meals)
3-bed room (188 EUR per person, for three days, two nights + meals)
Shared beds for 6 persons (148 EUR per person, for three days, two nights + meals)
LANGUAGE: Slovene and English
The workshop accepts maximum 15 participants.
Design by: Maruša Žemlja
REGISTER TODAY!