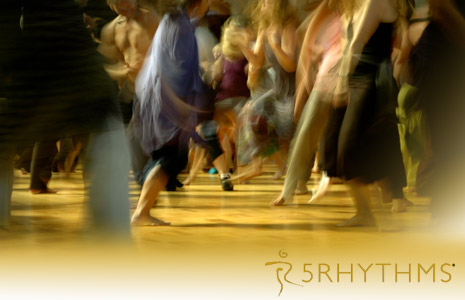 A year-long 5Rhythms ® closed group for women Waves+Heartbeat level
London - 5 Feb 2017 to 12 Nov 2017
Katarzyna Kat Pugowska
The closed group consist of five one day 5Rhythms ® workshops, waves level and one full weekend of Heartbeat level of the practice. It is for the dancers that are looking for a caring embrace of depth, nourishment, inspiration and growth that naturally emerges when the same group of women get together over extended period of time.

I spent so many years wondering what was wrong with me. And it is through the dance and years of personal exploration of my relationship to my body, I am reminded that I don't have to be anything other than myself, that I am enough. I passionately believe in the healing power of women coming together with collaboration rather than competition in mind. My intention is to bring women together to step into their power so we can heal ourselves and the world together, with grace, forgiveness, compassion and with fierce feminine power

REGISTER TODAY!
The God Pattern
London - 27 Oct 2017 to 29 Oct 2017
Adam Barley
Dance, sex, and deep mathematics
The 5 rhythms are not just rhythms! They are the movement-based manifestation of a pattern that describes the way consciousness and matter interface with each other. As we know, this pattern shows up all over the human psyche from sex to meditation, and it also shows up in breaking waves where there's the same kind of interface going on (between the ocean and the shoreline).
However, it also shows up in mathematics, in the relationship between the number π which describes the nature of circles, and the number 0 which describes emptiness.
There's a simple equation called "Euler's Identity" that is known throughout the scientific world as the stand-alone jewel of mathematical beauty. It ties together the five most important and fundamental numbers in existence (the first and fifth of which are π and 0) in such an elegant and perfect way that it is almost shocking.
This equation is the same pattern as the 5Rhythms. Not only does each number have the same quality as one of the rhythms, but the numbers are related to each other in precisely the same way that the rhythms are. That these two patterns —each of which is renowned in its own field as extraordinary— are in fact one and the same... that's wild and holy magic.
The numbers teach us some new things about the rhythms, and this workshop is the first one of its kind, where you get to explore that.
You don't need any ability with maths to take part. You will get to experience the rhythms in some new ways however, learning how to use your intelligence as well as your sweat to weave the deepest instincts of your body together with the invisible silence that is carried on the wings of the breath.
REGISTER TODAY!